So it's that time again—the time when I start reading all of these terrific TBR lists from my favorite bloggers … lists of books that are great for Harry Potter fans, lists of the best YA released this year, list of books that are releasing in the holiday season … lists of the best fantasy …
Lists, lists, lists, and you know what they do for me? INCREASE MY OWN TBR PILE!!!
Which does two things for me: 1. Make me take a long, hard look at my TBR stacks (and that's plural, because there are about ten different stacks of books waiting to be read around my house, and that doesn't even get into the bookcases), and 2. Make me want to make a list of my own.
So here we go: Carrie's list of Halloween things. Based on various factors currently in my life.
1.
The Firedragon series
, by Glass House's very own Mary Fan. Yes, that's right, I'm using this list to pitch one of our own authors, but you know what? THIS IS MY BLOG AND I CAN DO THAT! This series, the prequel for the larger
Flynn Nightsider
series, features the most kick-ass of kick-ass heroines, and—bonus—puts her in a dystopian world peopled by monsters, enchanters, and a supremely corrupt government. Based on the events of the Arab Spring, Mary's world is politically terrifying, and features monsters right out of your nightmares. I'm a big fan of monster books—with heroes!—and this has to be on my top 10 list.
2. Grimm. This is, hands down, my new obsession. My husband and I binge-watched the first … four (?) seasons in the space of about 3 weeks, and I'm now drooling, waiting for the next season to start. The plot is surprisingly believable here—the world is cluttered with paranormal creatures trying to survive in human society, and our hero is one Grimm … a guy who can see the creatures, and has to try to live with that. Bonus: This Grimm is working with the Weisen, rather than killing them. And AND there are big bad royals in Europe who want to either kill or use him, PLUS his girlfriend became a witch (sort of), and he has a best friend who's a werewolf (sort of), and a baby who's half Grimm and half witch (sort of), and… Well. Suggestion: watch the show. Terrific characters, terrific plotline, and really REALLY great production value (as a film geek, I have to say that).
3. Vampy lipstick. Doesn't everyone go through a wearing-darker-lipstick phase this time of year? I've just bought an absolutely perfect mulberry shade, and I'm planning on going down to Nars this weekend and spending far too much on lipstick for this new phase. I generally love red, but fall makes me want … well, not quite PURPLE, but definitely something dark and mysterious!
4. Brown sugar in my coffee. Admission: I don't like the pumpkin spice latte. I know, I know, queue the hate mail now. But what I DO like: salted caramel and brown sugar. These both give my fall/Halloween coffee a lovely dark, rich taste, and I can't get enough.
5. Dracula, by Bram Stoker. Dracula is, hands down, one of my favorite monster stories of all time, partially because it's just so gorgeous, and just so tragic. Granted, this was the birth of so many of the vampire novels that I hate, but this, the original vampire novel, presents vampires as they should be—horrible and grotesque and absolutely bloodthirsty. It does it in the most wonderful, gothic language, and never fails to make me even more afraid of the dark. Even more satisfying is the fact that this is, at its heart, a love story. I have a habit of re-reading this book once a year, just to keep my hand in, and I just bought a new edition, so that means…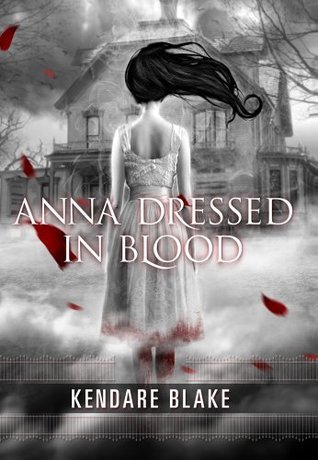 Source: Goodreads
6.
Anna Dressed in Blood
, by Kendare Blake. This has been on my TBR for literally years, and I think it's time I finally got around to it. First of all, the cover, OH MY GOD. Secondly, the pitch: a boy who kills ghosts, but then falls for the ghost he's supposed to be killing? Sounds like my perfect idea of a mix of romance, tragedy, and ghostliness! *moving it up on the TBR pile*
7. The Space Between, Brenna Yovanoff. Another long-timer on my TBR list. Demons and their quest for redemption? I don't know why I haven't managed to read this yet, but I'm moving it up!
8. The Archived, by Victoria Schwab. Yes of course I have to put one of her books on this list, and this series—one of my favorites—literally gave me nightmares when I first read it. Not because it features monsters or demons, but because the very concept is terrifying. People who are kept in a secret library once they pass away, and the threat to the world if they're awoken… Yes, that creeps me right out.
9. Night Circus, by Erin Morgenstern. I've started (and stopped) this book more times than I can count, and I think it's time I finally finished it. Because honestly … IS there anything more spooky than the thought of a circus gone wrong?
10. Pumpkin bread. That's right, I don't like pumpkin spice lattes, but I DO have a mean pumpkin bread recipe, and this time of year—when all the supermarkets literally put cans of pumpkin on sale for about 99 cents per—is the absolutely perfect time to make it. Plus, hello, it's delish.
So there it is, my top ten for the season. And now, if you need me, I'll be in my kitchen, scarfing down pumpkin bread and making more while attempting to read a book at the same time, with Grimm no doubt playing in the background… HAPPY HALLOWEEN!!!
Share your favorite Halloween reads with us at
@glasshousepress
or in the comments below!
---
Carrie White-Parrish is a dreamer, a rebel, and an admitted bibliophile. She started Glass House Press—her second company—when she ran across a manuscript that deserved to be published, and hasn't looked back. Though her tastes run from MG to historical fiction to high fantasy and back, her heart truly belongs to YA. When she's not editing or publishing, you can find her taking over the world, hanging out with her many spoiled pets, or traveling the world with her beloved husband.